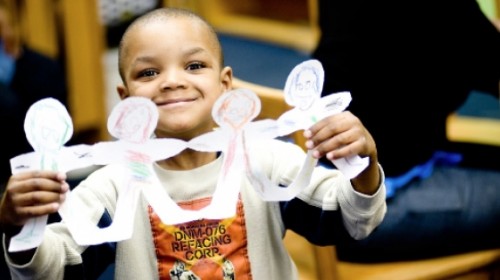 Every day there is a story in the news about a child getting shot by another child, or a child beating up another child. Why is this happening so much in society today? Many people blame television and the violence that kids are subjected to on a daily basis. How can you expect your child to not act violent when they are seeing shows where Tom is showing how to sharpen a chainsaw so he can chase Jerry with it? But not all kids watch violent television and even the ones that don't are having violent experiences in life. Maybe it's the home environment that they are growing up in? Maybe we will never know the true reason behind children and violence. One thing is for sure, the more violent this world gets the less protection we can feel for our kid's lives.
Children learn from what they see. If they see a violent television show and no one explains to them that it is fake and not to be done at home or school then how do we expect them to know this and act accordingly. Many children view violence in their home between their parents or there brothers and sisters. This too can produce a more violent child. The younger the child is when introduced to violence the more geared towards violent behavior they will be. The best television shows to watch with your children, if you must watch television, should be shows like ones on PBS, Disney Jr. and Noggin. These are all channels that represent good clean fun for children. They don't promote violence and they are educational with all there shows. They teach lessons on how to be a great friend, how to listen to your parents, how to be creative, and also how to clean up. On Disney Jr. they have Mickey Mouse Club House which teaches kids how to use reason and to understand cause and effect. There is no negativity or violence on any of these episodes and they even teach kids how to follow directions, and know their shapes and numbers. They teach colors and how to match colors and even how to build a birdhouse, these are all things that are great for kids. Shows on these channels don't teach things that can harm others or themselves. If more parents will stick to watching these type shows with their children and not allow violence into your home then the children may not be shooting each other in the head and causing fights with others.
Violence can be prevented with proper monitoring of your actions, your partners actions, and what you let your children watch on television and at movies. If they don't experience violence then they are less likely to succumb to it when faced with conflict. Being a parent is hard but it's going to be even harder if your child commits a violent act against another child and you dwell on the fact of what you could have done to prevent this from happening. Many people have guns in their home and other weapons that are readily available and those are the homes where children end up doing a violent act not realizing that what they are doing isn't anything like it is on television. The guilt will eat you up if this happens to you and your child so make conscious decisions about their environment, where they go to visit, and the television and movies they are allowed to view. This will save you many heartaches in the future.