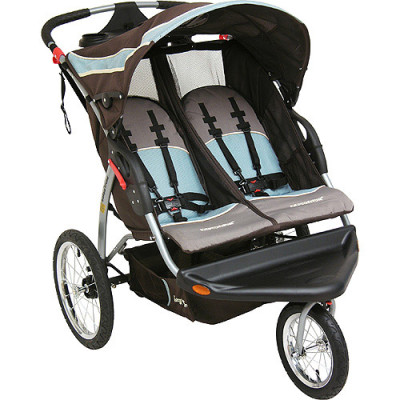 If you thought having one kid kept you busy – imagine having two. While it is fun to take your kids to the mall or the fairgrounds, it can quickly become a nightmare when they are too tired to walk anymore. Parents have learned that the only thing worse than a cranky kid is having to carry a heavy, sleeping child around rough terrain or through busy crowds. This is why a double stroller is simply a must-have item for every parent.
Check the Reviews
Forget about brand-name strollers for a second and which stroller is ranked as the best double stroller. Your first task is to check out the reviews on any stroller that you are considering. Today's shoppers love to provide feedback so that other shoppers can know what an investment an item is or if it's not worth the box it's shipped in. You can read reviews on sites that sell the products or on independent forums for parenting. The best choice is always to read on the retailer site because these reviews are less likely to be planted by companies to boost sales.
Be sure to look for key indicators about the products performance, design and functionality in your double stroller reviews. Many people are very thorough which makes this part of the buying process a breeze. Don't be put off by a handful of bad reviews. Remember that sometimes a product is shipped defective but unless there are more bad reviews than good, it's nothing to be too concerned about. Lastly, don't forget to ask your other parent friends about what strollers have really made their day.
Check the Manufacturer History
What kind of history does the manufacturer of your favorite double stroller have? Are they known for putting out quality products or are they new to the scene? What other products do they offer – have you tried them? Your child's safety should be top priority when picking out a stroller. Unfortunately, all strollers are not made equally. A poorly made stroller may lose a wheel while you are pushing it along or it might not be designed for the rough terrain at your favorite park. When you have two children riding, any malfunction is a recipe for disaster.
You will also want to check out the children's product recall list to see if your model or manufacturer has had any recent recalls (or past recalls) that demonstrate flaws in their manufacturing process.
What's Your Functionality?
The last thing to consider before you purchase a double stroller is what your functionality will be. Some strollers are designed for a casual stroll on the smooth tile surface of your local mall. Others are built with shocks and sturdy tires for outdoor terrain such as parks, hiking trails and even rough sidewalks. Don't forget to check the weight capacity also. Your children will grow and the last thing any parent wants is a stroller that collapses under the weight of their children. Finally, if you plan on using your stroller more for fitness like running then you will want to hone in on your options for a double jogging stroller over a traditional model.
Strollers are one of the more expensive items you will purchase for a child but if you purchase a quality one the first time, it will surely last for the long haul with your family.