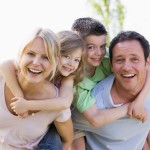 Being a parent is the hardest job in the world. With any other job there is a lot less pressure to do everything exactly right all of the time. Having children is the greatest blessing there is but it also comes with more responsibility than anything else as well. Everyone wants to do right by their children, raise them right and try to everything the best way so that they can grow up into healthy happy adults.
Every parent wants their child to have all of the advantages in the world and have everything that they want. Parenting is so very difficult because it seems as if the "right thing to do" changes on a weekly basis.  Of the little details are hard to deal with. You have to be the one to decide what they eat and when they go to bed. What games they can play and what television they should be watching, keeping them from harm while giving them enough freedom to grow into individuals and even teaching them the right things. Even if you think you know how to raise a good person, the media is constantly changing all of the other rules.
They tell you whether or not to sooth your baby when he cries or what foods and drinks are on the newest no fly lists. Every day there seems to be something new to watch out for or avoid. There are always thing that you should be doing but aren't or should do but do anyway. At some point you have to just look at the facts in front of you and make your own decision about what is okay for your child. Do you think vaccinations are safe, do you believe that kids should never have fast food and do you feel comfortable letting them go out on dates at what ages? It is all up to you.
As their parent you have their best interest at heart and want the very best for them so you have to go over all of this new found data and decide if soda is the enemy or if moderation is what they need. All of it comes down to knowing the facts and being able to use those facts to back up your choices. If you can do that than you have at the very least done your best to try and do the right thing for them.
The newest thing is sulfate free shampoo. Now there are some things about sulfates that you should know. Basically they are added to soaps and shampoos for the bubbly quality. They make the lather happen. In itself, it is not a bad thing, but there is more. They are also derived from sulfuric acids and can be rough on the skin, scalp and hair. Harsh sulfates can irritate the skin, just like they burn your eyes when you are in the shower. That same property can be irritating to the skin. Also they are said to take some good oils out of the hair as well. In the end the choice is yours.