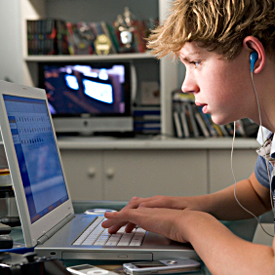 The introduction of modern technology, particularly the computers, is perhaps one of the most valuable technical development that had taken place in history. These modern devices, along with the internet have become an essential part of the modern society. In this age, people rely on the internet to accomplish a variety of everyday duties, such as for business transactions, school assignments, work duties, and even for shopping. In addition, the use of these modern equipment make it possible for many to communicate with other people from different parts of world, and make new friends even while they are at the comfort of their home.
However, despite all these benefits, many child experts and other concerned individuals do not recommend the use of computers for children, particularly those who are under the age of three. In fact, some of them even believe that children should be banned from using these modern devices because it could harm their development. Simply put that the internet contains materials that are not suitable for kids, and there are also various applications, such as online games, that can affect a child's behavior and health; therefore, many are not in favor of allowing a young child in front of a screen.
But not everyone supports the recommendation of some experts to ban children from using their computers and other gadgets. Like many, I have seen some children using computers or tablets, enjoying playing educational games and other useful applications. And as I observed, I don't think that their use of the latest technology has affected their development or learning ability. In fact, it has been more beneficial because the use of these modern devices significantly improved their social skills and awareness. I guess, the secret lies on the proper way of using these devices. As a parent or educator, it is important to educate your child on the proper use of modern equipment to ensure their safety.
With proper use, modern technology can offer a wide variety of benefits. Not only that it can entertain your child by playing games or watching educational and funny videos, but it can also provide greater developmental gains. The potential gains for young children may vary depending on the kind of computer experience you provide or the amount of time they invest in using these items; but either way, the potential developmental gains are tremendous, which include improved mathematical thinking, increased creativity, enhanced social skill levels, increased problem solving skills, and many more.
Moreover, learning the proper use of computers, laptops, and other modern devices are beneficial to children later in life. As you know, the internet offers a wide variety of opportunities. If you are able to teach your child on how to build a website – even a simple one – with the use of free html5 templates or you allow him or her to be exposed in the field of online marketing at a young age, your child will be able to perform a variety of useful tasks in the future, such as starting an online business or creating useful apps for future users.
Nevertheless, you should still guide your child with the use of modern devices. As mentioned, the internet contains a lot of immoral and illegal materials that are obviously not suitable for your child. As a parent, you should educate your child, guide him or her, and thoroughly explain to him or her the benefits and danger of being exposed from these devices. For additional safety, you should block the sites that you don't want your child to access, or tell him or her to not share any personal information to others online.