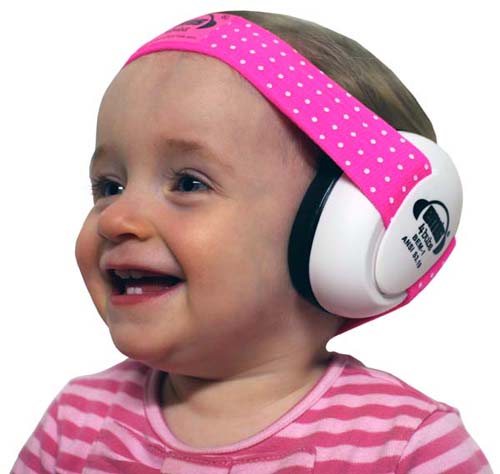 The importance of wearing an effective ear protection is something that people, especially adults, overlooked all the time. But just as you want your child to wear a bicycle helmet, use a seatbelt, or put on goggles, you may also want your kids to wear ear protections to protect their ears from loud noise.
According to the Hearing Loss Association of America, hearing loss is the third most common health problem in the U.S.; and it's continuously on the rise. Based on the 2001-2008 survey conducted by the National Health and Nutritional Examination Survey (NHANES), about 30 million Americans, or 12.7%
of the population, had hearing impairment in both ears. And if people who have impairment in at least one ear were included, the number almost doubles to about 48 million, or 20.3%. These figures far exceed the previous estimates, which totaled to 21-29 million. And we all know that if not prevented or treated, hearing loss may affect the quality of relationships and life.
How Can You Protect Your Child's Hearing?
We live in a world that is exposed to a wide variety of noises, but some levels of noises are not dangerous to our hearing. In practical terms, you and your child's hearing won't damage by watching a 30-minute TV show, listening to a 5-minute song, or taking a short bus ride to school. However, you and your child's hearing could potentially damage by listening to loud music over long periods of time, and being exposed to an activity that produces a noise that exceeds to a safe noise level.
Basically, a safe level of noise depends on two factors. The first one is the volume of the noise, and the second one is the amount of time you are exposed to the noise. In most countries, the level of noise that is allowed is generally less than 80 decibels, although higher noise level may be allowed for a short period exposure. For instance, students should not be exposed to noise levels at 85 decibels for more than eight hours a day.
If your child does different activities that are exposed to loud noises, such as participating in a band, taking part in sports events, attending entertainment venues, or using lawnmower, you may want to encourage your child to put on a protective hearing equipment to avoid any hearing damage.
Ear protections, or earmuffs, are objects that are specifically designed to protect the ears. They are usually made with thermoplastic or metal headband that is meant to fit over or at the back of the head, and a pad at both ends that are meant to cover the ears.
Ear protections for children are definitely a must. Sure, you can ensure your child's hearing safety at home by setting constraints regarding noise levels, but what about when he or she's already outside your premises? How can you ensure that your child is still safe if he or she is in other place, doing different activities? Purchasing a well-designed and effective ear protection is the best solution to provide your kid a healthy teenage experience. And this is especially true if your child enjoys outdoor activities, particularly hunting or shooting. The sound of a gunshot can reach up to 190 decibel, which can cause immediate and serious ear damage when not wearing an effective ear protection. So it's very crucial to provide your kid a hearing protector when doing such an activity. To help you decide which kind of ear protection to wear, visit www.bestearprotectionforshooting.com.