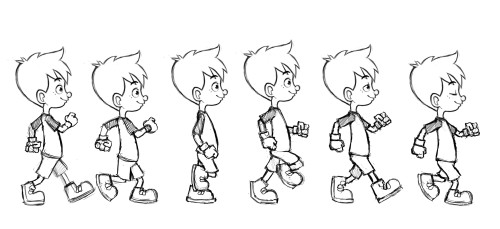 Before 3D animation started to rule our lives there was 2D. Two dimensional animation is the concept used to create all our favorite characters from popular kids movies. Animators use various programs to create moving, talking and life-like characters that are completely cartoons. This is not to be confused with the clay animation that is used by some animators. An example of clay animation is the characters in The Nightmare Before Christmas while traditional 2D animation is what we see in The Little Mermaid or Beauty and the Beast. You too can create your own educational kids movies with 2D animation software.
Design a Story Board
The first thing that you will want to do is come up with a story line. Children are generally interested in educational segments that are 15-20 minutes long. Start by deciding what type of lesson you want to teach your children. Because you are creating the story yourself, you will have the opportunity to create a specialized engaging experience for your child.
Once you have determined the story line, create a story board. This can be done a on computer or on an array of index cards or on a one large sheet of paper or poster board. This is where you will create scenes for the story. In each scene you want to outline the characters and what is happening. Remember that each scene should only be around 60-seconds, at the maximum.
You may also want to create mock sketches of the characters that you will be using in the movie on the story board.
Select a 2D Animation Software 
There are several different 2D Animation software programs to choose from. Some are more expensive than others and offer more features. You really want to decide how important this project is to you. If you are planning on just creating something now and then you might not want to spend $1000 on a program. However, if you plan to use your 2D animation program regularly to create other types of videos than just educational ones for your kids then you will want to invest in a better program.
You can read reviews of the various products at sites like 2DAnimationSoftwareGuide.com. Select the program that best fits your needs to get started. Remember that you may need to use a computer with a more powerful graphics card for this type of work. It could easily wear out a base model computer. 
Put it into Action
The last thing you want to do is put your idea into action. Follow the steps in the program you have selected to create your movie based on your story board. After you have created the characters and their animation you can apply voices to each one. If you are still new to the entire idea then you may want to use voice overs instead. This is where the voice narrates the actions on the screen. This is really a better choice for first-timers.
Creating your own animated movie is a fun but time-consuming process to start. You must realize that it will take time to get used to how the programs work and how to create exactly what you want with them. In no time you will have mastered the art of building 2D animated movies and create many entertaining experiences for your entire family.