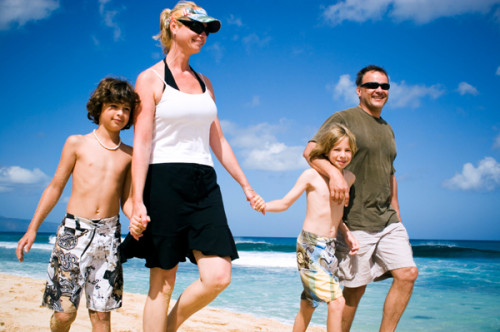 When the summer is approaching, and so are summer school vacations and the time of your annual leave, it is oftentimes that we find ourselves at crossroads, trying to decide where to take our families for vacation. When you have a family with children, you can no longer take your other half to just a party place, where the accommodation is great, the bathtub is in the middle of the room, which is ideal for romantic evenings and there are bars around every corner. This is the time when you have to figure out a way, that during your holidays, every member of your family is happy and have something to entertain themselves with throughout your stay at one place or another. An ideal place for family vacations would be somewhere close to the water, be it a river, lake or sea, where the weather is nice, so you can spend maximum time outdoors in the fresh air, the accommodation is comfortable, and there is a developed infrastructure, with things like shops, restaurants, and cafes. Here are the top 5 ideas of where you can go
 Cruise
One great idea for a family vacation is going on a cruise – not only will you be able to visit several popular destinations, but you will also be traveling on a 'mobile' hotel with numerous amenities, comforts, activities and entertainment. You can even choose cruise lines that are popular for families with kids, thus ensuring that your child will find friends to play with, while you and your spouse can socialise with adults. New technology has made it possible to travel on cruises which are like floating cities, they have everything from multiple restaurants, cafes and bars on board, to a variety of accommodation to choose from, entertainment for both adults and children, water slides, various sports, and even gyms, to ensure the best possible experience of their customers of all age groups.
Lake
Spending time in a wonderful lake house, nestled in a beautiful location sounds like a dream come true. Not only is this a perfect way to spend quality time with your family, but you also have a variety of water spots to enjoy – from fishing, to swimming and splashing in the water, to just having nice picnics by the lake – what more can you wish for? Click here for more ideas of a family vacation by a lake.
Beach
Another great idea for a family vacation is to go to a place located on the beach, this is perfect especially in the summer, when it is hot outside and the only thing that can help you cool down is swimming in the turquoise sea. There are plenty of places to visit, including Florida, California, Bahamas, Maui, Puerto Rico and even Cancun! Vacations by the sea are not only fun for adults, but also for children of all ages.
Europe
While you might have enjoyed swimming in the sea last year, and you would like something a little bit more sophisticated, you can travel to Europe for holidays. Not only can you enjoy the seaside of French Cote d'Azur, or Greek islands, but you can also teach your children history and culture, by visiting some of the most famous landmarks and monuments of the world.
Exotic vacations
For those of you who prefer something extra ordinary and exotic, a great idea for a family vacation would be going somewhere like Thailand, or Vietnam, or even South Africa! While the trip will take a long time, the adventure and the breath taking experience that you and your children will get cannot be measured. A lifetime of memories, exciting ventures and great explorations is guaranteed.